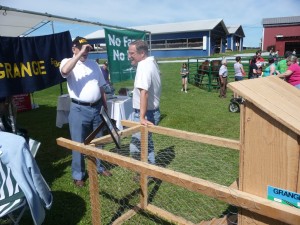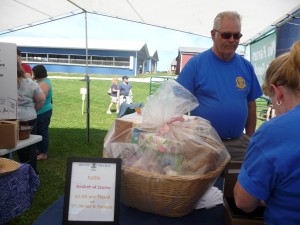 Greetings.  Sundae on the Farm is always a special and amazingly fun event that the Milton Grange participates in every year.  It always falls on Father's Day, and is a great time for families to come out and see the operations of one of our Saratoga County farms.
This year the event was held at Clear Echo Farm in Northumberland and the weather could not have been better.  The event seems to get better every year with respect to organization and layout.  Clear Echo's layout definitely lent itself well to the event.
Milton Grange #685 was proud to be raffling off both our usual basket as well as the chicken coop that we built for last year's Saratoga County Fair exhibit.  When you build something like that, you never know what kind of interest you'll get.  We knew that someone would win it, but we didn't know that we would get as many entries for it as we did. This is exciting for a lot of reasons.  First, it shows that there are people out there that want to make a closer connection with the food that they eat.  It's great to see that connection being made.  I don't know if raffling a chicken coop would have been as much of a success 5 years ago.
Thanks to all who came out and said hi.  We hope to see you all next year.